On-site RV/Trailer for Rent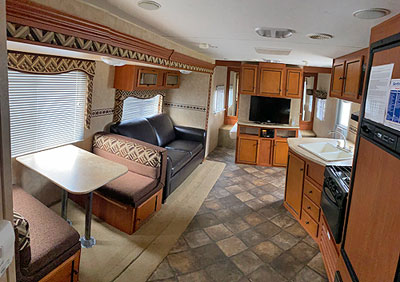 2013 Trailer Includes:
Queen size bed.
Bunks for children – double on bottom; single on top.
Full bath.
Dinette.
Pull out couch.
All dishes; pots; cutlery; kettle; toaster; can opener.
[
VIEW PHOTOS
]
Prices for this upcoming season:
May 9 – June 21; September 1 – October 15 (shoulder season) -
$130.00 per night plus HST
.
June 22 – September 1 (peak season) -
$665.00 per week plus HST
.
The equivalent of the cancellation charge will be processed on the credit card holding the trailer at time of booking.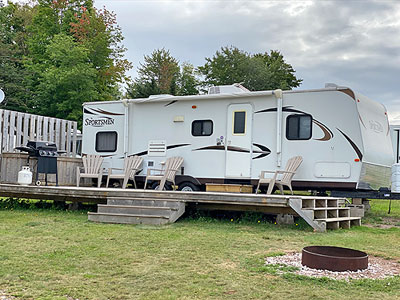 From June 22 – September 1 the trailer is available for rent on a weekly basis only. Check in is Sunday at 3:00 p.m and check out is Sunday at 11:00 a.m.
During the off season check in is 3:00 p.m. and check out is 11:00 a.m.
There will be a $200 deposit upon booking the trailer. There will also be a $250 damage deposit charged upon checking in. Damage deposit will be refunded at the end of your stay after inspection of trailer. Cancellation must be made two weeks prior to check in, in order to be refunded the deposit.
Maximum number of people in trailer is
five
. No more then one family may rent at a time. Family consists of two adults and children under the age of 19 residing in the same household. Extra adults over the age of 19 will be charged $10 per adult per night.
Pets are not allowed.
No smoking in the trailer
Rental of trailer includes lot rental ($230 value) and access to all campground activities. Some activities will require additional charge.